The OM Foundation
Charitable Trust (regd.)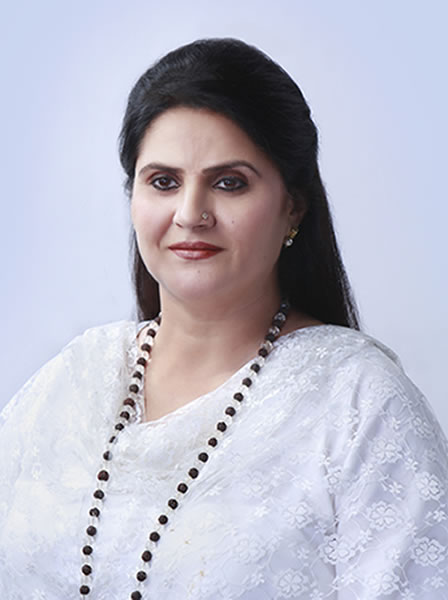 About Surya Putri – Rashmi Malhotra – Founder Trustee
(The Om Foundation Charitable Trust)
Simply known as Rashmi Didi is the founder Trustee or Chairperson of 'The Om Foundation Charitable Trust". She chiefly functions as the spiritual and functional head of the trust. The trust works on the principals of Humanity, Service and Brotherhood. Rashmi Malhotra was born in a family where vedic culture was followed as a spiritual tradition. She took teachings in her childhood from her grandfather Sh. Gorakh Nath Nanda (disciple of shri 1008 Swami Govinda Nand ji Maharaj) and her father Sh. Brahma Nand Nanda (disciple of Swami Vivekananda).She was blessed with a great spiritual, affectionate and loving mother; Urmila Nanda, who inculcated courage and grace in the small girl but left her at a very young age of fifteen and took solace in the feet of lord Krishna.
Rashmi Didi since then maintains the ideology of basic principles of Vedanta : that it is meant for the whole of humanity and its principles can be applied in day to day life for a fullfilling and blissful existence by realising your own Atman and throwing away your weaknesses.
She believes that since man is potentially divine, service to man is indeed service to god. Swami Vivekananda said "he who sees Shiva in the poor, in the weak and the deceased, really worships Shiva and with him Shiva is more pleased than with the man who sees him only in temples". Bhagwan Shri Krishna said in Bhagwat Geeta " I live in every soul and every soul lives in me" therefore working on these principles Rashmi Didi has unconditional love and concern for the poor and it transcends in the form of service to the Society.
Her persistent service towards humanity has been honored by the Delhi Ex-Chief Minister Smt. Sheila Dixit through the award of 'best social worker' and her efforts have been appreciated and motivated by the honorable President of India Shr. Pranab Mukherjee as well.
Smt. Rashmi Malhotra is an inspiration for all. Her beliefs and actions portray what she preaches. As Chairperson of the trust she is motivating thousands of parents to educate their girl children and stop discriminating between boys and girls. Her aim is to educate every girl child and finish the gender sensitization issues of our society through education. The trust organized a program SHIKSHA in Constitution Club of India, on the occasion of her birthday where Jagad Guru Mahamandaleshwar Swami Pragyanand Ji spoke on the dice, "Rashmi as her name predicts, the sun rays, is bringing light of education and hope in the dark homes of illiterate underprivileged families of our society. Therefore I am giving her name of SURYA PUTRY as a gift in front of you hundreds of people who have gathered here on her birthday in Shiksha program" Since then she has been called as Surya Putry Rashmi Malhotra.